2018 Charity Gala Dinner - 10th anniversary
The FMCC Charity Gala Dinner 2018, themed "Extravagance au Moulin Rouge", held at the Grand Ballroom of MGM Macau, on Friday, 26th January 2018.
The 2018 FMCC Gala brought you to a special district in Paris: the iconic and vibrant Montmartre. During an extravagant and glamorous evening themed after the cradle of French Cancan dancing, the Moulin Rouge draws its power from its colorful history, the bohemian lifestyle of the Belle Époque, and from its artists, immortalized by the paintings of Toulouse-Lautrec.
The 9th edition Charity Gala Dinner "Extravagance au Moulin Rouge" even was more special as we also celebrated the 10th anniversary of FMCC, formerly known as FMBA.
Our 2018 Gala Dinner Sponsors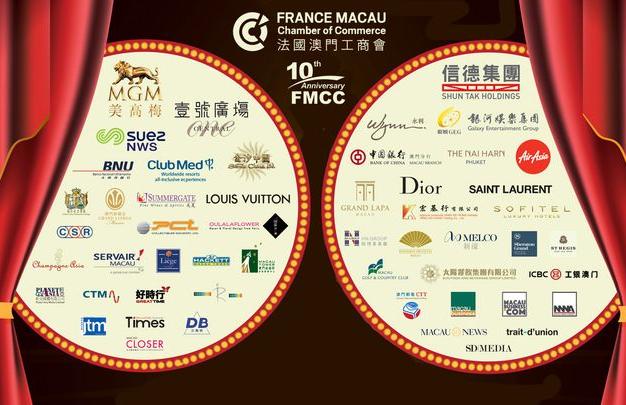 Program

6:30pm
. Welcoming guests at the reception
. Champagne Cocktail & Canapés
. Collegium MCMC String Trio led by violinist John Ma
. Preview Lucky Draw Prizes & Tickets Sales

7:30pm
. Dinner Reception opens and seating commences

7:40pm
. Program Begins / Speeches by:
Mr. Eric Berti, Consul General of France in HK and Macau
Mr. Rutger Verschuren, Chairman of France Macau
Chamber of Commerce
. Toasting Ceremony for the 10th Anniversary with
the Founders and FMCC Board Members

8:00pm
. Dinner & Opening Show
. Table Prizes Draw

8:30pm
. Live Performance by Monique Dehaney
. Lucky Draw
. French CanCan
. Cheque presentation for Macao Fok Sin Association

9:30pm
. Live Performance by Monique Dehaney
. Lucky Draw
. Live Band Music

10:20pm
. Last Final Draw
. Music till late at night