French Business in Macau
France ranks 2nd"non-Chinese" supplier of Macau in 2017, after Macau, thanks to its leading position on luxury goods.
The relationship between France and Macau has grown stronger and stronger over the last few years, relying mainly on the appetite of the Macau market for French luxury consumer goods. The potential remains very important when factoring in the growth of Macau economy.
Bilateral trade between Macau SAR and France has enjoyed a very impressive development over the last few years. From 2007 to 2017, Macau's total imports increased by 75% and consumer goods (which account for nearly two thirds of its total imports) skyrocketed by 179%. As a leading supplier of consumer goods, especially for high value items such as food products, fine wines and spirits, and luxury bags, clothes and accessories, France directly benefited from this trend and is the n°4 supplier of Macau, behind Mainland China, Hong Kong and Italy.
French exports to Macau have surged by 214% between 2007 and 2016, from 186 to 614 million EUR, and France 's market share has increased, from 4% to 7.4%.
96% of French exports to Macau are consumer goods. The French best-selling items are food and beverages (26.1% of French exports to Macau), handbags (16%) and garments and footwear (7.4%).
With a 12.3% market share on food & beverage (n°2 supplier after Mainland China) and a 6.8% market share on garment & footwear (n°3 behind Italy and the Mainland), France provides altogether 11.4% of all the consumer goods imported by Macau (n°3, just behind Mainland China with 19.7% and Hong Kong with 12.6%).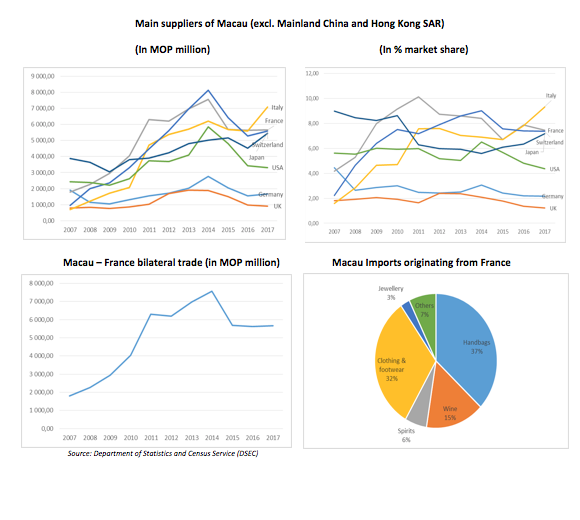 Written by the Economic Department
of the Consulate General of France in Hong Kong & Macau
October 2018