French Business in Macau
The relationship between France and Macau has grown stronger and stronger over the last few years, relying mainly on the insatiable appetite of the Macau market for French luxury consumer goods. The potential remains very important when factoring in the robust growth of Macau economy and the many complementarities that go beyond consumer goods (e.g. in the service industry).
1. France ranks 1st "non-Chinese" supplier of Macau thanks to its leading position on luxury goods
Bilateral trade between Macau SAR and France has enjoyed a very impressive development over the last few years. Of course one could expect this growth to stem from the dramatic rise of Macau economy itself over the same period. Indeed, from 2007 to 2016, Macau's total imports increased by 65% and consumer imports (which account for nearly two thirds of the total imports) skyrocketed by 152%. As a leading supplier of consumer goods, especially for high value items such as fine wine and luxury bags, clothes and accessories, France directly benefited from this trend and established itself as the n°1 Western supplier of Macau (n°3 worldwide, behind Mainland China and Hong Kong).
As a result, not only did French exports to Macau surge by 212% between 2007 and 2016, from 1.8 to MOP 5.6 billion, but their market share increased as well, from 4% to 8%. Mainland China remains by far Macau's first trade partner, with a market share of 36%. With a 13,7% market share on food & beverage (n°2 supplier after Mainland China) and a 9,8% market share on garment & footwear (n°3 behind Italy and the Mainland), France provides altogether 12% of all the consumer goods imported by Macau (n°3, just behind Mainland China with 19,8% and Hong Kong with 12,6%).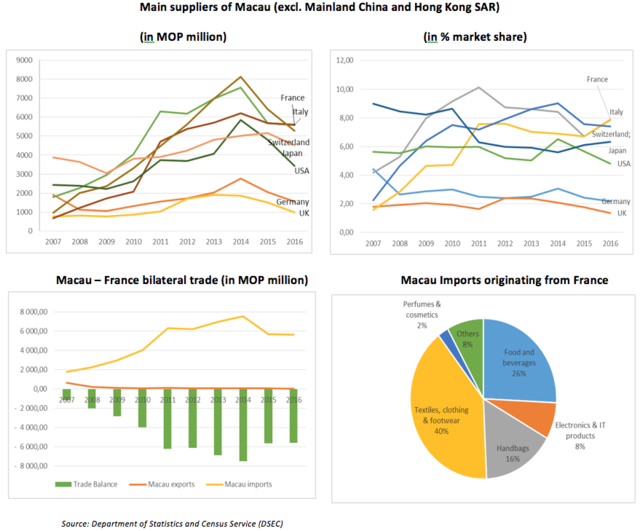 Conversely, 95.6% of French exports to Macau are consumer goods. The French best-selling items are textiles and clothing (40% of French exports to Macau), food and beverages (26%) and handbags (16%).
On the other hand, Macau's exports, mostly composed of garment products, have been declining in average by 5% per annum since 2007 owing to the competition of Chinese products unleashed by the accession of China to the World Trade Organization in 2001. Macau's exports to France declined similarly by a cumulated 94.8% since 2007 and represented a small amount of MOP 32 million in 2016.
2. The bilateral relationship also relies on a significant, albeit difficult to assess, presence of French companies in Macau SAR
Trade is only one part of the story. In today's globalized economy cross-border investment has to be taken into account in order to truly grasp the extent of the economic relationship between two territories. This is particularly relevant for Macau's economy, whose liberalization in the early 2000s has attracted a wave of Foreign Direct Investment (FDI) inflows in the gambling and hospitality sectors. Hence FDI stock has been multiplied by seven from MOP 53 to 244 billion between 2006 and 2016 an increase of 359%). Yet French FDI to Macau is hard to assess, because FDI origins are usually difficult to trace: according to Macau statistics office (DSEC), the main investors in 2016 are Hong Kong (28,2%), the British Virgin Islands (23,2%) and the Cayman Islands (22,9%), which act more as financial intermediaries than real origins of the investment.
French companies' activity in Macau can be assessed by other means. According to the last survey conducted by Eurostat (2013), subsidiaries of French multinational groups have contributed to EUR 1.2 billion (approx. MOP 10.7 bn) of turnover, and now employ more than 1700 people in Macau. Alongside, many smaller entrepreneurs have also set up their businesses. The French community in Macau now accounts to approximately 250-300 people.
All in all, many French companies are active in Macau SAR and more and more so, especially in sectors which benefit from the economic boom: tourism, infrastructure and utilities, luxury products, etc. This directory presents these companies and their diversity: from the subsidiaries of multinational groups to the self-entrepreneurs which have locally set up their business in Macau, the whole gamut is represented within the FMCC.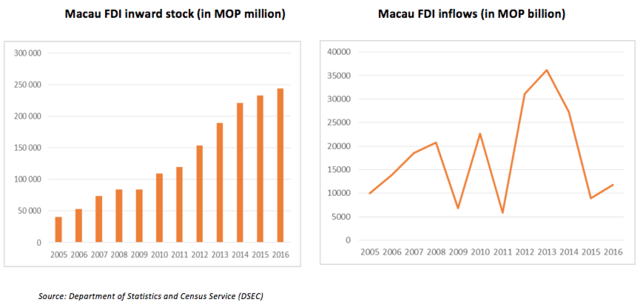 Written by the Economic Department
of the Consulate General of France in Hong Kong & Macau
October 2017