French Business in Macau
In 2020, France ranks 1st non Chinese supplier of Macau, most imported products are essential oils and balm, perfume cosmetics.

The relationship between France and Macau has grown stronger and stronger over the last few years, relying mainly on the appetite of the Macau market for French luxury consumer goods. The potential remains very important when factoring in the growth of Macau economy.

Bilateral trade between Macau SAR and France has enjoyed a very impressive development over the last few years. According to Macanese Customs, France became Macau's 2nd largest supplier in 2020 with a 16.9% market share (10.2% in 2019) behind China (29.8%). France is ahead of Japan (10.4%), Italy (9.3%), the United States (9%), Switzerland (5.5%) and Hong Kong (3.1%).

In 2020, Macau's imports increased by +2.7% to 11.6 billion USD but those from France increased by 70% to reach 2 billion USD in 2020, including almost 1 billion USD of cosmetics.

According to French Customs, French exports to Macau, excluding aeronautics, grew by 5.3%. Total exports fell by 52% to 206.3 M EUR, as no aeronautical shipments took place. Exports of luxury goods increased in 2020: leather goods (71.7 M EUR, +13.2%), ready to wear (40.1 M EUR, +33.75%), jewellery (17.2 M, +20.9%), shoes (10.6 M, +0.7%).
The drop in visitors in 2020 (6 M against 33 M in 2019) has however affected the activity of hotels and restaurants and has been reflected in the exports of agri-food products, which have decreased: wines (15.3 M, -37.7%), food products (11.5 M EUR, -33%), spirits (7 M, -32.2%).

French companies have a long-standing presence in Macau. There are about ten French subsidiaries in Macau and at least 60 French companies (posting a total of €1.2 billion in revenue and employing 1,700 people) are present in various fields. French luxury and consumer goods brands, are well represented with a large network of shops (Cartier, Chanel, Dior, Hermès, Louis Vuitton etc.).

French companies are also present in wines, champagnes and spirits (Moët Hennessy, Pernod Ricard, Remy Cointreau), water management and electricity (Suez), construction (Dragages/Bouygues), the environment (Veolia), hotels (Accor/Sofitel), advertising (JCDecaux), and the agri-food industry (several SMEs).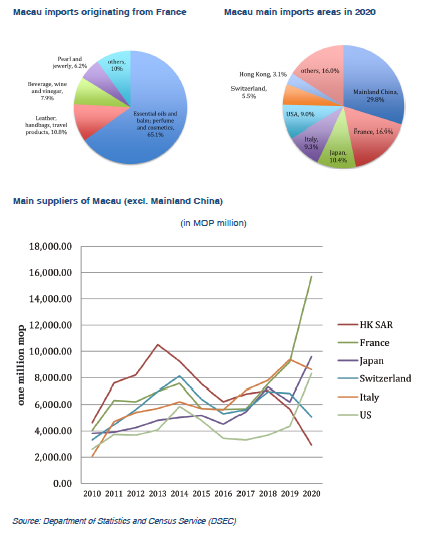 Written by the Economic Department
of the Consulate General of France in Hong Kong & Macau
October 2018