2019 Charity Gala Dinner
"First Class to Tahiti"
The France Macau Chamber of Commerce is proud to announce its upcoming FMCC Charity Gala Dinner 2019, which will be held at the Grand Ballroom of MGM Macao on Friday, January 25, 2019.
This year, we invite you for a first class trip to the beautiful French Polynesia. You will discover during an elegant evening, the culture of this mythical archipelago. From Tahiti to Bora Bora and Moorea, these exotic islands have inspired legendary artists such as Paul Gauguin, Jacques Brel and Marlon Brando.
Join us for this unique voyage to paradise with exclusive entertainment; wonderful music and magnificent lucky draw prizes, with proceeds to Macao Fok Sin Association, in support to their project "Visit the Elderly".
Prices

FMCC Members
$ 1,700 per seat
$ 16,000 per table

Non-Members
$ 1,850 per seat
$ 18,000 per table
Remarks:
. Prices in: Macau Patacas MOP / Hong Kong Dollars HKD
. Each entry ticket includes 1 Lucky Draw Ticket

. Purchase of a table includes 10 seats and will be considered as "Friend of FMCC" with corporate logo shown at the table and company name included in the program book. A maximum of 2 seats can be added per table and will be additionally charged.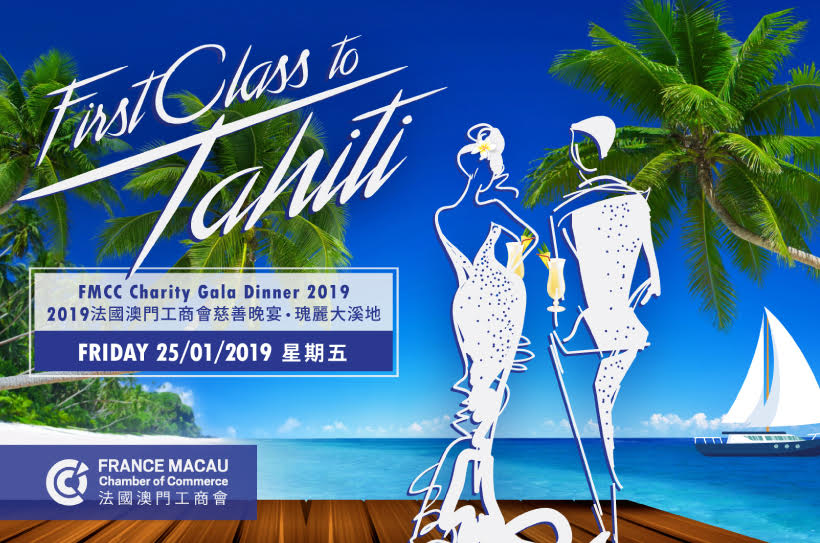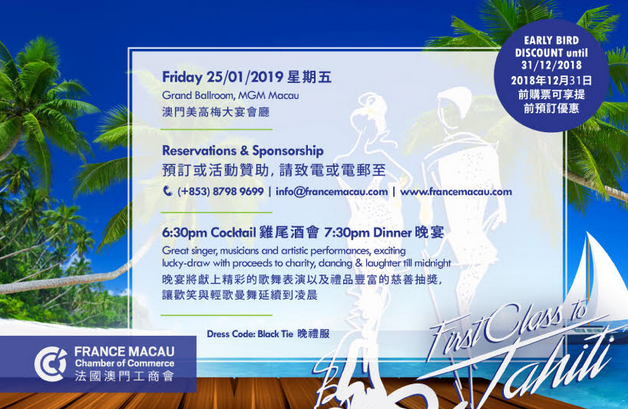 Charity Project "Visit the Elderly"
Last year, FMCC had the honor to support Macao Fok Sin (MFS), a local non-profit association, which provides a platform for young residents to participate in community work and help the unprivileged. After raising with success the amount of 80,000 MOP at the 10th Anniversary Charity Gala Dinner in 2018, and benefiting over 80 families in Macau, FMCC is pleased to announce their decision to renew their support to MFS with the project "Visit the Elderly in 2019".
The main actions in community service undertaken by the MFS comprise mainly the following:
Identifying unprivileged groups, particularly elderly people, and those with low income and little mobility;
Raising funds for the projects;
Training the volunteers to perform visits and entertain the targeted unprivileged people;
Preparing and distributing clothes and food, and essential items to the people in need.
Through the project "Visit the Elderly", MFS aims organizing visits and providing useful gifts, with food, warm blankets and essential articles as walking sticks and glasses to unprivileged groups of elderly people with low mobility, who do not have families, and who lack emotional and financial help. Last year, FMCC's Chairman and volunteering members had the opportunity to join MFS, prior to Chinese New Year, on February 11th, for a visit to the elderly households in the social housing complex in Ilha Verde neighborhood and in Coloane island. Besides bringing useful gifts, the volunteers also shared smiles, attention and warmness to the elderlies.