2021 Charity Gala Dinner
On 28 May, FMCC held its 11th Charity Gala Dinner themed "A Night at the Museum", at MGM Macau Grand Ballroom. We invited our guests for a creative night full of entertainment and surprises, to feel the French Art culture and celebrate the most iconic French museums.
Thanks to our generous guests, FMCC raised over MOP75,000 during the evening, in support of Macao Fok Sin Association's "Visit the Elderly" program.
We would like to thank our sponsors for their tremendous support, our distinguished guests, and all members and friends who contributed to make our Night at the Museum such a success!
Our 2021 Gala Dinner Sponsors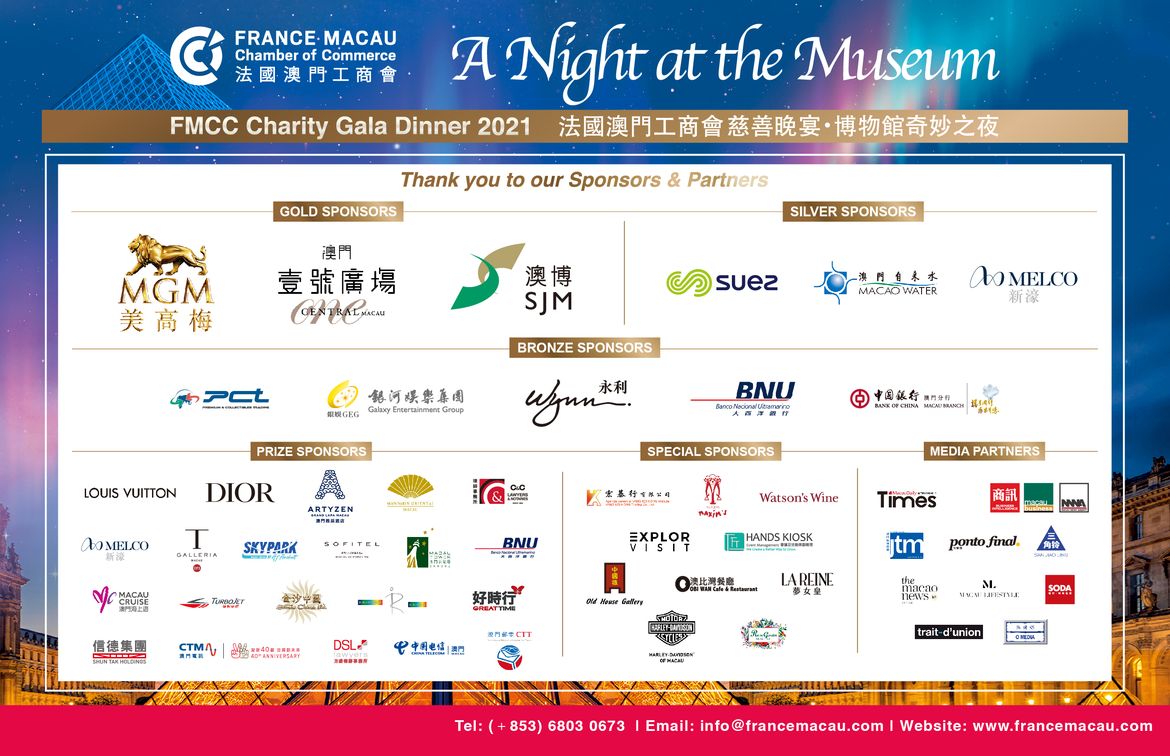 Program

6:30pm
. Welcoming guests at the reception
. Champagne Cocktail & Canapés
. Colégio MCM String Trio Directed by Dr. Patricia Thompson
. Preview Lucky Draw Prizes & Tickets Sales

7:30pm
. Dinner Reception opens and seating commences

7:40pm
. Program Begins / Speeches by:
Mr. Alexandre Giorgini, Consul General of France in HK and Macau
Mr. Rutger Verschuren, Chairman of France Macau
Chamber of Commerce
. Toasting Ceremony with
VIP Guests and FMCC Board Members

8:00pm
. Dinner & Opening Show with Egyptian Dancers
. Table Prizes Draw
. Live Performance by Macau 5

8:30pm
. "La Touriste à Paris" Live Act
. Lucky Draw

9:00pm
. Cheque presentation for Macao Fok Sin Association
. Live Performance by Macau 5

9:30pm
. Lucky Draw
. Live Performance by Macau 5

10:00pm
. Last Final Draw
. Music till late at night