FMCC Members of French Companies are cordially invited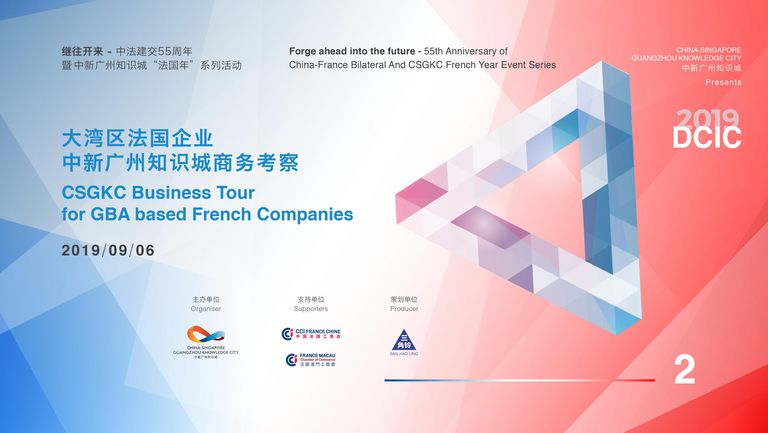 CSGKC is a joint venture between China and Singapore. As an international project, it is, therefore, more open to international co-operation compared with similar local projects.
CSGKC is not your average real estate development project. Since 2009, CSGKC has been built on a land that is three times the size of Macau, with an aim to create a Singapore bis city.
It brings all the business opportunities that a city entails: education, hospitality, services (e.g. finance, silver, legal), industry clusters and so on…
For the industry part, CSGKC focuses on Next-Generation ICT, Artificial Intelligence, Biotech & Pharma, New Materials, New Energy & Cleantech.
RSVP BEFORE 23RD AUGUST
To attend the event, please contact directly Kiki Wang before 23rd August:
Kiki Wang: kiki(@)sanjiaoling.com, (+86 20) 8352 5725
Please note that this event is by invitation only and that there are no fees whatsoever (except the optional dinner and accommodation in Guangzhou).
For those wishing to stay the night in Guangzhou, a dinner and accommodation can be arranged, and transportation back to Macau will be provided on the following morning.
ABOUT THIS EVENT SERIES
Organized by CSGKC, this event series aims to celebrate the 55th anniversary of the establishment of China-France diplomatic relations, and seek potential cooperation with French entities.
This series includes the following events:
- 10th July (past event) CSGKC & France Political and Business Leaders Roundtable
Successfully held on 10th July, The Roundtable meeting has allowed both parties to deepen mutual understanding and explore opportunities for potential cooperation. For more information, please watch the event video: http://sanjiaoling.com/roundtable-video/
- 6th September: CSGKC Tour for French companies based in the Greater Bay Area, in cooperation with the French Chambers
- 6th December: CSGKC Appreciation Reception in downtown Guangzhou where potential MOUs may be signed
- September - December: A CSGKC delegation to visit France and a delegation from France to visit CSGKC
ABOUT CSGKC
The China-Singapore Guangzhou Knowledge City (CSGKC) is a joint project between China and Singapore that started in Guangzhou 10 years ago and that covers a land 3 times the size of Macau.
CSGKC is positioned as a Singapore bis. It is including education facilities, hi-tech business parks, residential and commercial areas, as well as recreational and public amenities. CSGKC is a city within Guangzhou to which it is being connected by the subway network.
For more information about CSGKC, please visit their website or check their company presentation here:http://doc.sanjiaoling.com/ssgkc-presentation.pdf
ABOUT IP CENTER
IP Center is located at CSGCK's national-level intellectual property protection zone, which is the only one in China. It is dedicated to unifying the management of patents, trademarks, and copyrights, with the most complete elements for IP Protection. It aims to integrate over 80 IP-related institutions and offices, such as Patent Examination Cooperation Guangdong Center of the Patent Office.
The IP Center conducts substantive examinations of patent applications. It provides patent evaluation reports for judicial procedures, helps enterprises file patent applications, and offers legal counseling regarding IP protection and other IP-related services.
Schedule
Friday 6 September 2019

| | |
| --- | --- |
| 12:00 - 12:15 | Meet at the Charming Hotel in Gongbei, Zhuhai |
| 12:15 - 15:00 | Leave in a mini-bus for CSGKC (a lunch box will be provided) |
| 15:00 - 15:30 | Visit CSGKC Exhibition Hall |
| 15:30 - 15:45 | Visit Fenghuang Lake |
| 15:45 - 16:45 | Visit IP Center |
| 16:45 - 17:00 | CSGKC Presentation |
| 17:00 - 17:15 | Q&A Session |
| 17:15 - 18:30 | Cocktail Networking |
| 18:30 | Return in a mini-bus to the Charming Hotel in Gongbei, Zhuhai |